Keynote Speakers
Esther L. George
President and Chief Executive Officer, Federal Reserve Bank of Kansas City
Federal Reserve's Financial Services Policy Committee Chair and Fed's Payments System Improvement Initiative Sponsor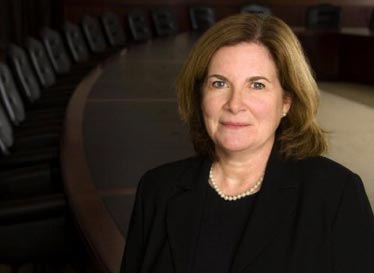 Esther L. George is president and chief executive officer of the Federal Reserve Bank of Kansas City. In 2016, she is a voting member of the Federal Open Market Committee, which sets U.S. monetary policy. She also chairs the Federal Reserve's Financial Services Policy Committee and sponsors the Fed's payments system improvement initiative.
She has more than 30 years of experience at the Kansas City Fed, primarily focused on regulatory oversight of nearly 200 state-chartered banks and 1,000 bank and financial holding companies in seven states. She was directly involved in the banking supervision and discount window lending activities during the banking crisis of the 1980s and post-9/11.
During the most recent financial crisis, she served as the acting director of the Federal Reserve's Division of Banking Supervision and Regulation in Washington, D.C. She hosts the Federal Reserve Bank of Kansas City's annual Economic Policy Symposium in Jackson Hole, Wyoming, which is attended by central bankers from around the world.
Phillip Evans
Co-Author of Collaboration Rules
Philip Evans' career-long obsession is how technology must re-shape business strategy and public policy. He offers challenging perspectives on the direction of the digital revolution: community-centric marketing, tapping user-generated content, open collaboration and innovation, network-based strategy, infrastructure economics, the "deconstruction" of value chains, privacy and big data.
Philip is a Senior Partner Emeritus with the Boston Consulting Group and the first elected BCG Fellow. He founded both BCG's media and Internet practices. He has long been the preeminent thought-leader for BCG and was dubbed one of the "Lords of Strategy" in the book of that name. In his 35-year career at BCG, he has consulted worldwide on strategy in the consumer goods, financial services, healthcare, media, retail, and technology sectors. He has also advised governments on military organization, homeland security, economic development, and digital policy.
Philip's long-term interest is in technology and business strategy. He has served as thought leader for BCG on such topics as community-centric marketing, tapping user-generated content, the architecture of open collaboration and innovation, network-based strategy, infrastructure economics, the "deconstruction" of value chains, big data, and privacy. Founding BCG's media and internet practices, Philip also pioneered their expertise in pricing, IP, network analysis, and big data.
As a speaker, Philip has given keynote speeches for TED, Bill Gates's CEO Summit, Michael Milken's Global Conference, The Economist and the World Economic Forum. He has also addressed "closed door" sessions with the world's telecommunication regulators (in Geneva), privacy authorities (in Uruguay), and the Senior Executive Council of the Pentagon.
Philip is co-author of the bestseller "Blown to Bits" and numerous award-winning articles in the Harvard Business Review. Currently, he sits on the Advisory Board of the Oxford Internet Institute, British-North American Committee. Philip Evans graduated #1 from Cambridge in economics and then went on to become a Harkness Fellow at Harvard in mathematical economics in 1974 and his MBA from Harvard Business School in 1978.
Speakers
Robleh Ali
Robleh Ali is joining the Digital Currencies Initiative at the MIT Media Lab as a research scientist. His primary area of research is how fiat digital currencies can be issued and more broadly how the financial system will be affected by technological advances such as distributed ledger and artificial intelligence. He was previously the manager of the digital currencies work at the Bank of England and led the research effort into central bank issued digital currencies. His long term interest is how technology will change the financial system and has published several articles on different aspects of this subject.
Carol Coye Benson
Carol is a founding partner of Glenbrook. Carol offers clients over 25 years of experience in product, marketing, and strategy development with leading financial services providers in both wholesale and retail financial services. Carol's practice at Glenbrook focuses on mobile payments, national infrastructures, and emerging technologies for financial services.
Before founding Glenbrook Partners, Carol was a managing director of the Global Institutional Services division of Deutsche Bank, in charge of marketing, client online services, and Internet development. At Visa International, she led a group conducting early work on the use of credit cards online, and a project that pioneered database marketing and related consumer-privacy issues. Carol also founded and managed Visa's European product-development office, where she led a series of electronic-commerce and chip-card projects designed to bring European banks online.
Prior to her career with Visa International, Carol spent twelve years with Citibank, where she managed the development and market introduction of new payments products. Carol began her career as a corporate lending officer for large multinationals at both Bank of America and Citibank.
She is co-author of the book "Payments Systems in the U.S."
Carol has an A.B. from Bryn Mawr College in Psychology, and an M.B.A. from Columbia University in Finance and Marketing.
Steve Bohn
Steve Bohn is a versatile and accomplished financial services executive with experience in electronic payment channels, treasury management, e-commerce supply chain, financial crime and risk management. His role on the Faster Payments Task Force is the leader for the Safety and Security Sub Work Group working with his team preparing to review and evaluate the submitted faster payment technology and solution proposals. Over the past several months, his team has been building the Phase 1 foundational work to more fully understand the key safety and security challenges and opportunities presented with the move to faster payments in the US.
Concurrently, Steve is the Chief Revenue Officer for QRUZ – a Dallas-based early stage mobile payments technology company. Launching this Fall, QRUZ is partnering with financial institutions, wallet apps, processors and other stakeholders to simply enable people to make fast, safe and secure payments with any mobile phone to any merchant – even withdraw cash from an ATM without using a card.
QRUZ is his third FinTech firm – most recently, Steve was the Financial Industry Market Manager at the cybersecurity firm Armor Defense. Previously, he served in various client executive, strategy and business management capacities with Hewlett Packard Enterprise, EDS and Fiserv focused on strategic client outcomes around payments, cloud computing, mobility, managed security, analytics and big data. Early in his career, Steve started out as a treasury management services banker with predecessor banks that became Bank of America and also later with a fast growing business bank, Texas Capital Bank. Steve was a contributing author in the Surfing Payment Channels – Expert Perspectives on 'Waves of Change' in the U.S. Payments System by James D. Pitts.
In his pastime, Steve enjoys serving on various mission projects with his church, working with youth in the BSA Venturing program, and enjoying family and friends cheering the Texas Rangers into the Post Season and then Iowa State basketball.
Ellen Bromagen
Ellen Bromagen was appointed first vice president and chief operating officer of the Federal Reserve Bank of Chicago effective September 1, 2015. Prior to her appointment, she was the executive vice president and product manager of the Federal Reserve System's Customer Relations and Support Office (CRSO). The CRSO has a strategic leadership role within the Federal Reserve, managing the nation-wide electronic payments and information delivery network ("FedLine"), leading national sales and marketing strategies associated with $0.5 billion in annual revenue and providing customer set-up and support for over 100,000 users.
Bromagen joined the Federal Reserve Bank of Chicago in 1990 and has held a variety of management positions during her time at the bank. Bromagen was promoted to assistant vice president-accounting in 1998. She joined the CRSO in 2003 was promoted to vice president in 2004 with the responsibility for financial planning and revenue management. In 2006, Bromagen assumed responsibility for FedLine® Program Management and was promoted to senior vice president in 2008. In 2012 she was promoted to executive vice president and product manager of the CRSO.
Bromagen holds a bachelors of Science degree from the University of Wisconsin and a master's degree from DePaul University.
Shonda Clay
Shonda Clay was named executive vice president and product manager for the Federal Reserve Bank of Chicago's Customer Relations and Support Office (CRSO) effective October 16. Prior to her appointment, she served as the CRSO senior vice president, marketing, sales and industry relations, where she was responsible for leading these functions for the Federal Reserve Banks.
Clay joined the Federal Reserve Bank of Dallas in 1991 and transitioned to the Federal Reserve Bank of Chicago in 2001. Her tenure with the Federal Reserve has encompassed multiple areas of management responsibility to include internal support functions, customer support, business development and national sales and marketing. Clay was promoted to assistant vice president and national account manager in 2002. She was promoted to vice president in 2008 with responsibilities for regional sales and marketing and sales operations and analytics. She was promoted to senior vice president in 2014.
Clay holds a master's degree in business administration from Northwestern University and a bachelor's degree in business administration from the University of North Texas.
Marianne Crowe
Marianne Crowe is a vice president in the Treasury and Financial Services department of the Federal Reserve Bank of Boston. She serves as the Mobile Payments Project manager and payments liaison to the Consumer Payments Research Center. Her previous roles at the Boston Fed include vice president/project manager in the Consumer Payments Research Center, assistant vice president of business development, the National Image Archive service, and the Boston check operations. Prior to joining the Fed in 2000, Crowe worked at BankBoston in project and operations management positions. Crowe has been a member of the FSTC mobile payments workgroup and the NACHA Internet Council.
Nanda S. Dave
Nanda S. Dave is Chief General Manager and Head of the Department of Payment and Settlement Systems in the Reserve Bank of India. She is responsible for policy making and oversight of all payment systems in India. In this role, she regulates and supervises the financial market infrastructures such as the RTGS and the Clearing Corporation of India besides the entities involved with retail payment including card networks, ATM networks, prepaid instruments and the National Payment Corporation of India. With over 30 years of experience with the Reserve Bank, both in policy making and operational level in several departments, she has built expertise in Non Banking financial companies regulation and supervision besides Payment and Settlement systems.
Nanda represents the Reserve Bank of India on the Committee on Payments and Market Infrastructures (CPMI) of the Bank for International Settlement (BIS). She is also on the Executive committee of Regulatory Oversight Committee of Legal Entity Identifier (LEI ROC), the SAARC Payment Council and the SEACEN Payments Group representing the RBI. She has been member of several key working groups both within and outside the Bank.
Recently she has been nominated on the Working Group on Fin Tech and Digital Banking set up by the Reserve Bank of India. She is a Masters in Management with a Bachelors degree in Science. She is also a Certified Associate of the Indian institute of Bankers (CAIIB).
Roy DeCicco
Roy DeCicco is a Managing Director for J.P. Morgan's Corporate and Investment Bank – Treasury Services Group. Based in New York, Mr. DeCicco manages the firm's relationship with payments and clearing market infrastructures and strategic payments-related initiatives with industry associations, public policy authorities, international market infrastructures and other financial institutions.
These responsibilities provide for active engagement with key industry organizations. Mr. DeCicco is the Chairman the Accredited Standards Committee (ASC) X9 Board, the convenor of the ISO Real-time Payments Group and the co-chair of the SWIFT Payments Market Practice Group. He is also a member (and past Chair) of the ABA Payment Systems Administrative Committee, the Federal Reserve Payments Risk Committee Working Group, the Stakeholder Group advocating adoption of ISO 20022 message standards in the U.S. and the Federal Reserve Faster Payments Steering Committee and Task Force.
Terry Dooley
Terry leads the company's business and product development, application development and IT infrastructure, corporate and IT security, vendor and customer relationship management, security consultative services and business continuity groups.
In addition to his role at SHAZAM, Terry is vice chairman of the Debit Network Alliance (DNA). He's also the past chair of the Payments Processing Information Sharing Council (PPISC) and of the Secure Remote Payment Council (SRPc).
Scott Hendry
Scott Hendry was appointed Special Director, Financial Technology (FinTech) in the Funds Management and Banking Department (FBD) in June 2016. In this role, he oversees the Bank's efforts to monitor and research developments and implications of new technologies affecting the financial sector. He previously held the role of Director of Research for FBD and, before that, for the Financial Markets Department (FMD). His personal research has focused on electronic money, price discovery in the Canadian government bond market, and central bank communication. He has a PhD in Economics from the University of Western Ontario.
Charles M. Kahn
Charles M. Kahn is Professor Emeritus of Finance at the University of Illinois. Before retiring he was the Bailey Memorial Professor in the Department of Finance and previously served as department chair. He is a visiting scholar at the Federal Reserve Bank of Chicago and consults regularly for central banks throughout the world, most recently the Bank of Canada and the Bank of Ghana. He has been a Houblon-Norman fellow at the Bank of England, an overseas fellow at Churchill College, Cambridge University, a visiting fellow at the Australian National University, a National Fellow of the Hoover Institution, and Visiting Tan Chin Tuan Professor at the National University of Singapore.
Kahn's research and publications have covered a variety of topics in economics and finance, including labor economics, macroeconomics, economic history, monetary economics, corporate finance, real estate, insurance, and banking. His recent work has focused on payments systems and liquidity, using game theory and contract theory to analyze the design of financial infrastructure.
Brian Mantel
Brian Mantel is vice president for Research and Market Development with the Federal Reserve's Customer Relations and Support Office (CRSO). Mantel joined the Federal Reserve Bank of Chicago in 1993 and has held a variety of positions in payments. Mantel graduated with a B.A. in Economics from Wabash College and earned an MBA in Marketing, Finance and Statistics from the University of Chicago. Mantel is the author or co-author of over a dozen studies in payments and has been published in Economic Perspectives, Payment Systems Worldwide and the American Bankers Association.
Brett McDowell
Brett McDowell is the Executive Director of the FIDO Alliance, the organization he helped establish in 2012 to remove the world's dependency on passwords through open standards for strong authentication. Mr. McDowell manages the strategic direction of the FIDO Alliance and coordinates its liaison activities with numerous external industry groups, standards bodies and government agencies worldwide.
Previously, Mr. McDowell was Head of Ecosystem Security at PayPal, where he developed strategies, lead initiatives, and spearheaded their authentication strategy to make the Internet safer for PayPal and their customers. He and his team drove several open standards and won a CSO40 award for innovation in authentication. Mr. McDowell has held several leadership positions including founding Management Council Chairman for the NSTIC IDESG, co-founder and Chairman of DMARC.org, Treasurer for the National Cyber Security Alliance, Secretary for StopBadWare.org, and Vice President for FIDO Alliance. Prior to joining PayPal in 2010, Mr. McDowell managed a number of IEEE-ISTO initiatives, serving as Executive Director for Kantara Initiative, Liberty Alliance Project, and VoiceXML Forum. Mr. McDowell has extensive industry standards experience having worked with IETF, ISO, ITU-T, ANSI, OASIS, W3C, IEEE and the ETSI ICT Standards Board.
Korie Miller
Korie Miller is Vice President and Director of Financial Services Marketing for the Federal Reserve System. Korie works for the Customer Relations and Support office of the Federal Reserve Bank of Chicago and resides in Kansas. In the 27 years she has been with the Federal Reserve, she has worked in bank operations, account management, and internal support roles in Denver, Kansas City, and Chicago offices. She is currently responsible for Financial Services product and promotions communications, electronic communication channels, and many Central Bank/Treasury communications. Korie also serves on several work efforts including product and pricing, industry relations, sales and marketing, and product office projects.
Korie received her undergraduate degree from William Jewell College in Liberty, MO and MBA from Baker University in Baldwin City, KS. She also graduated from the Stonier Graduate School of Banking at Georgetown in Washington D.C.
Gene Neyer
Gene Neyer is an Industry and Regulation Product Leader for D&H (www.dh.com). Prior to D&H, he held the same position as an SVP at Fundtech (acquired by D+H). Before Fundtech, he was a Principal at NG Group, Management Consultancy focusing on Payment Architectures and Operational Efficiency; Managing Security Executive for FSTC (www.fstc.org) a consortium of leading US banks and vendors; Head of Engineering and Security for EBS (an FX agency broker – now part of ICAP); and Head of Development for US payments at Deutsche Bank and Bankers Trust.
Mr. Neyer holds Executive Master in Technology Management from Wharton/University of Pennsylvania and a M.S. & B.S. Degrees in Mathematics from City College of NY.
Mr. Neyer has written and lectured on various aspects of global payments, real-time payments and blockchain and is a regular speaker and commentator at business seminars and conferences.
Ed O'Neill
Ed O'Neill joined the Federal Reserve in January 2016 as Assistant Vice President of Secure Payments. In his role, Ed is responsible for the design, development and implementation of key elements of the Federal Reserve's payment security strategy to reduce fraud risk and advance the safety, security and resiliency of the U.S. payment system. Ed also supports the 150+ member Secure Payments Task Force in meeting its objectives.
Ed began his career in Financial Services in 2001 with the Federal Reserve Bank of Chicago, where he held business analyst and information security positions in the Retail Payments department and the Customer Relations and Support Office. Prior to rejoining the Federal Reserve in 2016, Ed spent nine years at Discover Financial Services in various leadership roles where he was responsible for managing fraud operations, data security compliance, account data compromise investigations and risk management teams across Discover Network, Diners Club International and PULSE. From 2006 to 2014, Ed also served as a brand representative on technical, management and executive committees of the Payment Card Industry Security Standards Council.
Ed holds Master of Business Administration and Bachelor of Business Administration degrees from Loyola University of Chicago as well as the designation of Certified Information Systems Security Professional (CISSP).
René Pelegero
René founded RPGC Group LLC in 2002 after working for four years as the head of Global Payments at Amazon.com, where he was responsible for all aspects of payments processing for more than 30 million customers, managing relationships with banks, processors, credit card companies and for driving the adoption of new forms of payment.
For four thriving years René led RPGC, consulting for companies like Google, PayPal, Symantec, Cybersource, First Data, Visa International, American Greetings, Netgiro in Sweden and Pago in Germany. In 2006 René joined eBay/PayPal, as Senior Director, Strategy and Industry Relations. In this role, René was responsible for managing PayPal's relations with the financial services industry, and defining the strategies that maximize the benefits provided by the financial networks.
Growing restless after five years with eBay/PayPal, René re-launched RPGC in 2011 with the aim of bringing his views and ideas on how to make remote and global payments more efficient and cost-effective to a larger audience.
Already a seasoned payments professional with over fifteen years of experience in financial services prior to joining Amazon.com, René held senior management positions at Electronic Payment Services, Inc., a leading electronic funds transfer (EFT) processor; GE Capital, an international consumer lending group; and Tandem Computers, a hardware manufacturer of fault tolerant systems heavily used by the payments industry worldwide. René also provided strategic planning and systems integration advice to the bankcard and retail banking industry in a consulting capacity.
René has served as board member of the Direct Response Forum (DRF), co-chaired the e-commerce purchasing council of the Electronic Funds Transfer Association (EFTA), served as a member of the National Automated Clearing House Association (NACHA) Payments Institute Board of Regents, and was a member of the advisory board for ISO & Agent Weekly and of advisory panels for The Economist, BAI, and NACHA. He is currently a member of the Association for Finance Professionals (AFP) and represented PayPal to the Canadian Payments Association's Stakeholders Advisory Council (CPA), the International Payments Framework Association (IPFA), and NACHA's Global Payments Forum.
Quoted and published in many industry related publications, René's opinions are highly sought. He has been quoted in publications such as the Wall Street Journal, American Banker, Credit Card Management, USA Today, The Green Sheet, and many more. He has also contributed to specialized payment publications such as Association for Finance Professional's "The Exchange", the Canadian Payments Association "Forum", and Wiley Financial Series book "The Future of Finance after SEPA". During his tenure at eBay/PayPal, René filed for patents with the US Patent and Trademark Office for "Unified Identity Verification" and for "Payments Using Funds Pushing".
René received a B.A. in Business Information and Computing Systems and a M.B.A. from San Francisco State University.
Kassi Arana Quimby
Kassi Arana Quimby is an Associate Director at the Federal Reserve Board of Governors, currently on a leadership assignment with the Federal Reserve System's Strategies for Improving the U.S. Payment System leadership team. Previously, Kassi had oversight responsibility for a Federal Reserve business line supporting data consumption and use across policy and supervisory areas of the Federal Reserve. Kassi has a BBA in finance and management from the University of Miami, an MBA from George Washington University, and a Project Management Professional (PMP) certification from the Project Management Institute.
Sean Rodriguez
Sean Rodriguez is faster payments strategy leader for the Federal Reserve System. As faster payments strategy leader, Rodriguez is leading activities to identify effective approaches for implementing a safe, ubiquitous, faster payments capability in the United States. In addition, Rodriguez chairs the Federal Reserve's Faster Payments Task Force, comprised of more than 300 payment system stakeholders interested in improving the speed of authorization, clearing, settlement and notification of various types of personal and business payments.
Rodriguez brings more than 32 years of experience with Federal Reserve Financial Services in operations, product development, sales and marketing. He helped establish the Federal Reserve's Customer Relations and Support Office in 2001 including its national account program and served on the Federal Reserve's leadership team for implementing the Check 21 initiative. More recently, Rodriguez was instrumental in the design and launch of the Federal Reserve's Payments Industry Relations Program. Rodriguez holds a B.A. from the University of Colorado, a Graduate School of Banking Certificate from the University of Wisconsin and is an Association for Financial Professionals – Certified Cash Manager.
Ian Schweid
Mr. Schweid runs the Electronic Services Division at Coconut Grove Bank. In this role he is responsible for all aspects of the Bank's digital banking, payments and card based services for business, private banking and individual clients. This includes determining the strategic direction the Bank takes with regards to products, sales strategies, vendors, and daily execution for our clients. He is also responsible for managing our call center team.
Before coming to Coconut Grove Bank, Mr. Schweid ran Treasury Management, Corporate Services, and was a Regional Manager at City National Bank and Seacoast National Bank. In both positions he was responsible for various sales teams, treasury management operations and negotiated partnerships and contracts with vendors of all types. Previously he worked in the investments area at Great Western Bank and Prudential Securities.
Mr. Schweid's background includes an undergraduate degree in business/finance from Eckerd College, and an M.B.A. from Florida International University. He serves on the Federal Reserve Bank's Faster Payments Taskforce and is the current President of the South Florida chapter of the Association of Financial Professionals (SFAFP). He is a mentor for students at the University of Miami Business School and is a past President of the Marjory Stoneman Douglas Biscayne Nature Center.
Daniel Spulber
Daniel F. Spulber is the Elinor Hobbs Distinguished Professor of International Business and Professor of Strategy at the Kellogg School of Management, Northwestern University, where he has taught since 1990. He is also Professor of Law (Courtesy) at the Northwestern University Pritzker School of Law. He received his Ph.D. in economics in 1979 and his M.A. in economics in 1976 from Northwestern University and his B.A. in economics in 1974 from the University of Michigan. Spulber has taught at Brown University, the University of Southern California, and Cal Tech.
Spulber is the Research Director for the Searle Center on Law, Regulation and Economic Growth. He served as the founding director of Kellogg's International Business & Markets Program. A highly-valued speaker, Spulber has spoken at events organized by Oracle, Qualcomm, The Ewing Marion Kauffman Foundation, The General Accountability Office (GAO), The National Academies of Sciences, Engineering, and Medicine, The Technology Policy Institute, and The Global Competition Review.
Spulber's research is in the areas of Innovation, International Economics, Industrial Organization, Microeconomic Theory, Management Strategy, and Law. Spulber has received eight National Science Foundation grants, three Searle Fund Grants, and four Ewing Marion Kauffman Foundation Grants for economic research. Spulber is the founding editor of the Journal of Economics & Management Strategy published by Wiley-Blackwell. Spulber is the author of thirteen books including The Innovative Entrepreneur, 2014, Cambridge University Press. His research is in the areas of Innovation Economics, Entrepreneurship, International Economics, Industrial Organization, Microeconomic Theory, Management Strategy, and Law. Spulber has published numerous articles in leading economics journals and law reviews.
Stefan Thomas
Stefan Thomas is the CTO of Ripple. Stefan is also the producer of the popular "What is Bitcoin?" video and the founder of the largest website for novice Bitcoin users, WeUseCoins.com. He created a set of open-source Bitcoin libraries called BitcoinJS, which today are maintained and used by Bitcoin businesses of all sizes including BitPay, BlockChain.info, Bitaddress, Coinpunk and others.
Rich Urban
As President of IFX Forum, Inc., Rich as led the organization to improve its membership recruiting, PR and standard product leading to financial stability for the organization and annual re-election to office since 2003. Under his leadership the organization has demonstrated industry leadership by fostering strategic alliances with other standards developing organizations such as ANSI, X12, ISO20022, ANSI X9, the Federal Reserve and others.
IFXX Forum, Inc. is a financial services industry consortium formed in 1998. Its mission is to facilitate the electronic exchange of financial data and transactions. It is an international standard capable of serving the rigorous requirements of banks and their partners. It is also the strategic standard for the ATM industry and operates as a key component of EAI (enterprise application integration) in many large financial services companies.
Margaret Morgan Weichert
Margaret is a principal in EY's Banking practice and the Americas lead for Payments. As a former senior executive with First Data and Bank of America, she offers clients a distinct combination of payments consulting experience and industry leadership. Her 20 years of global experience has included payment industry experiences in North America, Europe, Africa, Latin America and Asia. Margaret brings unparalleled experience in all areas of payments, with direct experience with issuers, acquirers, processors, merchants, networks, corporate payment players, alternative payment providers and POS vendors and software providers. Margaret has a unique combination of business, process and technology perspectives on the payments business and the related economics of the payments ecosystem
An entrepreneur who started her own merchant payment processing company and sold it to First Data, Margaret has proven experience leading transformational payments initiatives, leveraging technology, process and strategy resources. Throughout her career, her entrepreneurial activities have resulted in 13 US patents, all in payments.
Gordon Werkema
Gordon Werkema is payments strategy director for the Federal Reserve System. As payments strategy director, Werkema has responsibility for leading major payment system improvement initiatives described in the Federal Reserve's "Strategies for improving the U.S. payment system" paper. Werkema leads the Federal Reserve's strategies related to faster payments, payments security and stakeholder engagement, collaborating with the Federal Reserve's current financial services product leaders to execute the full complement of strategies outlined in the paper.
Werkema's 34 year career at the Federal Reserve began in the San Francisco District, where he ultimately served as executive vice president before moving to the Federal Reserve Bank of Chicago, where he was first vice president and chief operating officer until September 1, 2015. He has also served as product director of the System's National Customer Relations and Support Office. Werkema holds a master's degree with honors from The Johns Hopkins University.