Keynote Speakers
Raphael Bostic
President and Chief Executive Officer – Federal Reserve Bank of Atlanta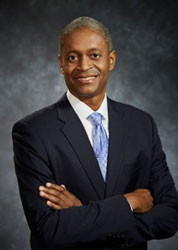 Dr. Raphael W. Bostic took office June 5, 2017, as the 15th president and chief executive officer of the Federal Reserve Bank of Atlanta. He is responsible for all the Bank's activities, including monetary policy, bank supervision and regulation, and payment services. He serves on the Federal Open Market Committee, the monetary policymaking body of the Federal Reserve System.
Bostic worked at the Federal Reserve Board of Governors from 1995 to 2001, first as an economist and then as a senior economist in the monetary and financial studies section, where his work on the Community Reinvestment Act earned him a special achievement award.
He serves on many boards and advisory committees, including the Advisory Committee on Economic Inclusion at the Federal Deposit Insurance Corporation, Georgia's Partnership for Inclusive Innovation, and the Lincoln Institute of Land Policy. He is also a member of Harvard University's Board of Overseers. He is serving as the 2021–22 chair of the board of directors of the United Way of Greater Atlanta and is the 2022 chair-elect for the Metro Atlanta Chamber of Commerce.
Michael Froman
Former United States Trade Representative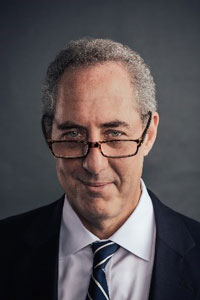 Michael Froman formerly served as the 17th United States Trade Representative, sworn in under President Obama in 2013. In this capacity, he served in the Cabinet as President Obama's principal advisor, negotiator, and spokesperson on international trade and investment issues. He also led the Office of the United States Trade Representative in its work to open global markets for US goods and services, enforcing America's rights in the global trading system and fostering development through trade. In his current role at MasterCard, he focuses on developing solutions for governments and other enterprises, launching new businesses, and driving financial inclusion and inclusive growth efforts.
Key initiatives undertaken at the Office of the United States Trade Representative under Ambassador Froman's leadership included negotiating the Trans-Pacific Partnership (TPP) agreement in the Asia Pacific, the Transatlantic Trade and Investment Partnership with the European Union, negotiation of agreements on services, information technology and trade facilitation at the World Trade Organization, and monitoring and enforcing U.S. trade rights, including through the Interagency Trade and Enforcement Center (ITEC). He expertly addresses how policies affect not only American interests but also the economic futures of Europe, Latin America, Africa, Asia, and China and Japan, in particular.
Before his appointment as Trade Representative, Ambassador Froman served in the White House as Assistant to the President and Deputy National Security Advisor for International Economic Affairs, where he was responsible for coordinating policy on international trade and finance, energy security and climate change, and development and democracy issues. He served as the US Sherpa for the G20 and G8 Summits and staffed the President for the APEC Leaders Meetings. He chaired or co-chaired the Major Economies Forum on Energy and Climate, the Transatlantic Economic Council, the US-India CEO Forum and the US-Brazil CEO Forum. He formerly held a number of high-level roles at Citigroup and is a Distinguished Fellow at the Council of Foreign Relations. From 2001 until 2009, Ambassador Froman managed various businesses at Citigroup, as CEO of its international insurance business, COO of Alternative Investments and head of its infrastructure investment fund. He spent seven years in the US Government under President Clinton serving as Chief of Staff and as Deputy Assistant Secretary for Eurasia and the Middle East at the US Department of Treasury. He was also Director for International Economic Affairs at the National Security Council and National Economic Council.
Mark Gould
Chief Payments Executive – Federal Reserve Financial Services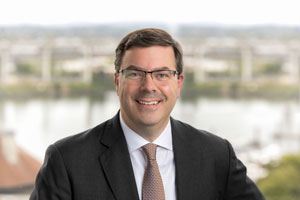 Mark Gould is the Federal Reserve System's chief payments executive. He is responsible for leading the full range of payment services provided by Federal Reserve Financial Services (FRFS), working to deliver a fully integrated suite of payment services and a unified customer experience for financial institutions nationwide. Mark is a proven leader with a track record for getting results and driving organizational change to meet the challenges of a dynamic future. He is a fierce advocate for transparency, inclusion and diversity, and mentorship in the workplace. He is also a champion for building a cohesive, contemporary, and collaborative culture across traditional organizational boundaries.
Mark previously served as the chief operating officer and first vice president of the Federal Reserve Bank of San Francisco. He led the Federal Reserve System's Cash Product Office, which oversees the processing, quality, and distribution of U.S. currency domestically and internationally. Mark's career at the Federal Reserve began 30 years ago in the Retail Payments Division of the Federal Reserve Bank of San Francisco. Prior to his role as chief operating officer and first vice president and national cash product director, Mark led the Seattle branch of the Federal Reserve Bank of San Francisco and provided leadership to technology, operations, and administrative functions.
Samantha Radocchia
Cultural Technologist, Blockchain Pioneer and Co-Founder of Chronicled, Inc.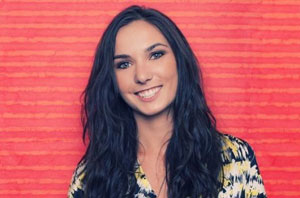 Samantha Radocchia, or "Sam Rad" for short, is an entrepreneur, keynote speaker, author, and emerging tech advocate who combines the mindsets of an anthropologist and a technologist. Sam has delivered keynotes globally and led corporate trainings at Fortune 500 corporations, trade associations, conferences, national governments, NGOs, investment firms, and the United Nations, educating leaders on the technologies and cultural shifts that will shape their organizations—and daily lives—in the years to come. A reformed gamer, she started studying virtual currencies in 2009 while writing her anthropology thesis on currency exchanges in the virtual world, "Second Life." Since then, she has founded three companies, holds several patents, and was an early outspoken voice in blockchain as the co-founder of Chronicled, an enterprise blockchain company focused on supply chain. Sam now consults executives, trade associations, governments, and investors on emerging technology trends and delivers keynotes at events worldwide. Most recently, she founded a company currently in stealth, working at the intersection of livestreaming and global payments.
In addition to emerging technology, Sam is deeply passionate about Future of Work, Future of Production, Future of Community/Governance, Future of Cities, Future of Finance, Future of Wellness as well as sustainability, not just in respect to environment, but in business. She has built experimental cities, leveraging blockchain, IoT, robotics, and AI; assisted in the creation of large scale RPG game design and virtual world architecture; deployed mesh sensor networks across small and medium sized cities; worked with governments to track temperatures of volatile substances and medicines across hostile environments; created globally distributed and decentralized organizations of 1000+ members and helped companies shift to embrace remote work; assisted in the creation of a decentralized voting and governance system; rolled out identity and cryptocurrency to disaster zones and refugee camps; architected a decentralized manufacturing network with connected 3D printers and 3D knitters; deployed a drone delivery and authentication service on blockchain; assisted in the creation of a smart charging station for autonomous vehicles; and more. She also is trained in and speaks on organizational culture and theory, particularly as we shift to globally distributed and remote workforces. Her lectures on risk, emotional intelligence, and intuition have been featured by globally recognized universities such as MIT, Harvard, Columbia, and UCL.
Hosts
Charles Evans
Ellen Bromagen
Shonda Clay
Connie Theien (Emcee)
Panel Session Speakers
Global Payments
Erin McCune (moderator)
Pablo Garcia Arabehety
Paul Bedford
Melissa Tuozzolo
P (Vasu) Vasudevan
Activating Next Gen Faster Payments Use Cases
Mark Willard (moderator)
Dan Baum
Jessica Cheney
Tony Cook
Craig McDonald
Sam Shrauger
Digital Currency
Avivah Litan (moderator)
Jim Cunha
Cleopatra Davis
Dante Disparte
Mithra Sundberg
Innovation & Open Banking
Ravneet Randhawa (moderator)
Johnny Ayers
Michael Bilski
Brian Costello
Jay Plueger
Mark Ranta