Keynote Speakers
Blake Morgan
Author of the Customer of the Future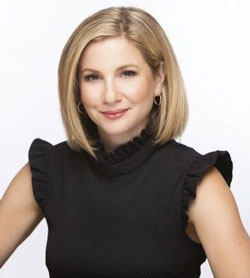 Blake Morgan is a keynote speaker and customer experience futurist and author of two books on customer experience. She's a board member of customer service AI software Minerva. Her bestselling second book is called "The Customer Of The Future: 10 Guiding Principles For Winning Tomorrow's Business" (HarperCollins), identified by Business Insider as one of the top 20 books executives are reading to deal with COVID-19. In 2021 the book won a top 5 spot on Book Authority's list of the "Top 100 Future Of Technology Books of All-Time." Blake Morgan was called one of the top 40 female keynote speakers for 2020 by Real Leaders Magazine. Her first book was "More is More: How The Best Companies Work Harder And Go Farther To Create Knock Your Socks Off Customer Experiences." She has worked with Comcast, Allstate, Genentech, Accor Hotels, Accenture, Adobe, Cisco, Parker Hannifin, Ericsson, Verizon, and more. Blake is a guest lecturer at Columbia University, the University of California, San Diego as well as adjunct faculty at the Rutgers executive education MBA program. Blake contributes to Forbes, the Harvard Business Review and Hemispheres Magazine. She is the host of The Modern Customer Podcast and The Be Your Own Boss Podcast. She lives in the Los Angeles Area with her husband, their two children and two dogs.
Esther George
President and Chief Executive Officer – Federal Reserve Bank of Kansas City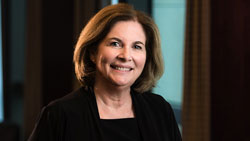 As CEO of the Kansas City Fed, George leads a workforce of more than 2,000 employees located at the Bank's Kansas City office and Branch offices in Denver, Oklahoma City and Omaha. The Kansas City Fed oversees seven states: western Missouri, Kansas, Nebraska, Oklahoma, Colorado, Wyoming and northern New Mexico. Throughout this region, the Kansas City Fed plays a role in national monetary policy, supervises financial institutions and provides payment and financial services to depository institutions and the U.S. Treasury.
George joined the Fed in 1982 and served much of her career in the Division of Supervision and Risk Management. She began by becoming a commissioned bank examiner and eventually served for ten years as the District's chief regulator. In that capacity, she was responsible for oversight of the District's state-chartered member banks and nearly 1,000 bank and financial holding companies, as well as the Bank's discount window and risk management functions. She was directly involved in the Tenth District's banking supervision and discount window lending activities during the banking crisis of the 1980s and post-9/11.
She is a former chair of the Federal Reserve System's Community Banking Organizations Management Group. George has also served as the acting director of the Federal Reserve's Division of Banking Supervision and Regulation at the Board of Governors of the Federal Reserve System in Washington, D.C.
George is a native of Missouri. Beyond the Tenth Federal Reserve District, she hosts the Federal Reserve Bank of Kansas City's annual Jackson Hole Economic Symposium. She has also participated in the Bank for International Settlement's Financial Stability Institute programs in Lima, Abu Dhabi, Beijing and Malaysia.
Loretta Mester
President and Chief Executive Officer – Federal Reserve Bank of Cleveland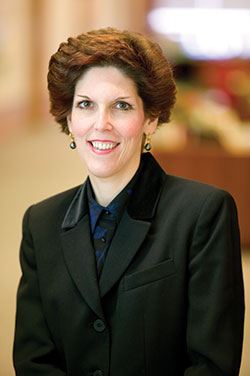 As president and chief executive officer of the Federal Reserve Bank of Cleveland, Loretta J. Mester participates in the formulation of U.S. monetary policy and oversees more than 1,000 employees in Cleveland, Cincinnati, and Pittsburgh who conduct economic research, supervise banking institutions, and provide payment services to commercial banks and the U.S. government. She assumed her role as president and CEO in June 2014.
Dr. Mester was born in Baltimore, MD. She graduated summa cum laude with a bachelor of arts degree in mathematics and economics from Barnard College of Columbia University. She earned M.A. and Ph.D. degrees in economics from Princeton University, where she was a National Science Foundation Fellow.
Prior to being named president and chief executive officer of the Federal Reserve Bank of Cleveland, Dr. Mester was executive vice president and director of research at the Federal Reserve Bank of Philadelphia, where she served as the chief policy advisor, attended meetings of the Federal Open Market Committee, and oversaw the economists and analysts in the Research Department, as well as professionals in the Financial Statistics Department and the Payment Cards Center. She joined the Federal Reserve Bank of Philadelphia in 1985 as an economist, becoming senior vice president and director of research in 2000, and executive vice president and director of research in 2010.
Dr. Mester is an adjunct professor of finance at the Wharton School of the University of Pennsylvania. She has also taught in the undergraduate finance and M.B.A. programs at Wharton and in the Ph.D. program in finance at New York University.
Her areas of research expertise and interest include the organizational structure and productive efficiency of financial institutions, financial intermediation and regulation, agency problems in credit markets, credit card pricing, central bank governance, and inflation. Dr. Mester has published numerous articles in refereed academic and professional journals on a variety of topics, including economics, central banking, and financial intermediation and regulation. In addition, she is a co-editor of the Journal of Financial Services Research and an associate editor of several other academic journals.
Dr. Mester is a director of the Greater Cleveland Partnership, a trustee of the Cleveland Clinic, a trustee of the Musical Arts Association (Cleveland Orchestra), a director of the Council for Economic Education, a founding director of the Financial Intermediation Research Society, a member of the senior council of the Central Bank Research Association (CEBRA), and a member of the advisory board of the Financial Intermediation Network of European Studies (FINEST). She is a member of the American Economic Association, the American Finance Association, the Econometric Society, and the Financial Management Association International.
Panel Session Speakers
Instant Payments in the U.S.
Nick Stanescu (moderator)
Ulrike Guigui
Michael Bilski
Elspeth Bloodgood
Gail Hillebrand
Security, Fraud & Identity
Deborah Baxley (moderator)
Patrick Eckerle
Una Dillon
Steve Silberstein
Rick Van Luvender
Digital Currency
Timothy Massad (moderator)
Tony Richards
Austin Campbell
Dinesh Shah
Global Payments
Jeremy Wing (moderator)
Carlos Eduardo Brandt
Thomas Lammer
Andrew McCormack