Keynote Speakers
Dr. Jonah Berger
Author and Expert on Decision Making, Consumer Behavior, Word of Mouth, and How Products and Ideas Become Popular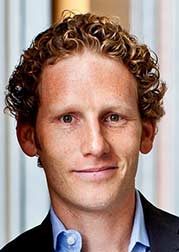 Dr. Jonah Berger is a professor at the Wharton School of Business at the University of Pennsylvania and a world-renowned expert on decision making, social influence, word of mouth, and how products, ideas, and behaviors become popular. A follow-up to his New York Times and Wall Street Journal best seller Contagious: Why Things Catch On, his latest book Invisible Influence looks at the hidden forces that motivate our everyday decisions including what to buy, what to wear, and how to act. Berger has a PhD in marketing and consults, teaches, and researches consumer behavior and trends, leading effective change, making better decisions, becoming more influential, and getting things to catch on. He is an exciting and fresh voice on marketing and strategy.
What makes things popular? Why do people talk about certain products and ideas more than others? Why are some stories and rumors more infectious? Jonah Berger spent the last decade answering these questions, explaining why certain products get more word of mouth than others and why certain online content goes viral. With Contagious, he reveals the science behind word of mouth and social transmission and shares how six key emotional and societal factors drive all sorts of things to become contagious–from products and policy initiatives to services and culture change within organizations. In his new book Invisible Influence, Berger looks at the psychology and social science behind trends and choices, highlighting how businesses may use his insight to influence employees, consumers, potential business partners, and investors.
Berger has spent more than 15 years studying judgment and decision-making and consulting for Fortune 500 companies. He looks at how organizations can sway behavior and describes how to prevent consumers from getting mired in "decision-making quicksand." With research and insights grounded in rigorous research and the best contemporary psychology and behavioral science, organizations can put Berger's insights to use whether they are selling a product or crafting a new corporate culture. He also shows leaders how to avoid the "curse of knowledge" and communicate change in way that encourages buy-in. Berger shares tools for shaping the choice context, being more persuasive, driving customer growth, and being more influential.
Berger has published dozens of articles in top-tier academic journals like Journal of Consumer Research and Marketing Science. Popular accounts of his work often appear in the New York Times, the Wall Street Journal, the Washington Post, Harvard Business Review, Wired, BusinessWeek, Fast Company, the Atlantic, the Economist, and more. His research has also been featured in the New York Times Magazine's annual "Year in Ideas" issue. Berger was named one of the American Management Association's 2014 "Top 30 Leaders in Business." He has also been recognized with a number of awards for both scholarship and teaching, including Wharton's "Iron Professor" Teaching Award and the MBA Curricular Innovation Award. He received the Journal of Consumer Research's Best Paper Award and Early Career Awards from both the Association for Consumer Research and the Society for Consumer Psychology.
Gary Shapiro
President and CEO, Consumer Technology Association (CTA)™
Gary Shapiro is president and CEO of the Consumer Technology Association (CTA)™, the U.S. trade association representing more than 2,200 consumer technology companies and which owns and produces CES® – The Global Stage for Innovation.
Shapiro directs a staff of more than 160 employees and thousands of industry volunteers, leading his organization's promotion of innovation as a national policy to spur the economy, create jobs and cut the deficit. CTA advocates for a lower deficit, skilled immigration, free trade and policies that support innovative new business models. CTA does not seek government funding for industry.
Shapiro has testified before Congress on technology and business issues more than 20 times and led the industry through its successful transition to HDTV. As chairman of the Home Recording Rights Coalition (HRRC), Shapiro led the manufacturers' battle to preserve the legality of recording technology and consumer fair-use rights, and opposed legislation like PIPA and SOPA that would be harmful to a robust internet. He co-founded and chaired the HDTV Model Station, served as a leader of the Advanced Television Test Center (ATTC) and is a charter inductee to the Academy of Digital Television Pioneers, receiving its highest award as the industry leader most influential in advancing HDTV.
In 2015 and 2016, The Hill named Shapiro "one of the most influential lobbyists" in Washington, D.C. Shapiro has also been repeatedly named one of the 100 most influential people in Washington by Washington Life magazine and a Tech Titan by Washingtonian magazine. He has also held many exhibition industry leadership posts and received the exhibition industry's highest honor, the IAEE Pinnacle Award. Under Shapiro's leadership, CTA regularly wins awards for its success as a family friendly employer, the healthiest workplace of its size in Washington, and as a "green" tradeshow producer. In 2016, CTA earned its third consecutive selection as a Washington Post Top Workplace.
Shapiro authored CTA's New York Times best-sellers, "Ninja Innovation: The Ten Killer Strategies of the World's Most Successful Businesses" (Harper Collins, 2013) and "The Comeback: How Innovation will Restore the American Dream" (Beaufort, 2011). Through these books and television appearances, and as a columnist whose more than 500 opinion pieces have appeared in publications such as The Wall Street Journal, The New York Times and The Washington Post, Shapiro has helped direct policymakers and business leaders on the importance of innovation in the U.S. economy. He is considered an "influencer" on LinkedIn and has more than 200,000 followers.
Shapiro sits on the State Department's Advisory Committee on International Communications and Information Policy, the USO of Metropolitan Washington-Baltimore Board of Directors, and the American Enterprise Institute Global Internet Strategy Advisory Board. He is also a member of the No Labels Executive Council. He served on the Commonwealth of Virginia's bipartisan Commission on Information Technology, which created policy positions for using the internet as a medium for business. He has also served on the Board of Directors of the Northern Virginia Technology Council, the Economic Club of Washington and on the Board of Visitors of George Mason University. He has been recognized by the U.S. Environmental Protection Agency as a "mastermind" for his initiative in helping to create the Industry Cooperative for Ozone Layer Protection (ICOLP).
Prior to joining CTA in 1982, Shapiro was an associate at the law firm of Squire Sanders. He has also worked on Capitol Hill as an assistant to a member of Congress. He received his law degree from Georgetown University Law Center and is a Phi Beta Kappa graduate with a double major in economics and psychology from Binghamton University. He is married to Dr. Susan Malinowski, a retina surgeon.
Speakers
Todd Aadland
Cyrus Bhathawalla
Richard W. Burke, Jr.
Magnus Carlsson
Kevin Christensen
Shonda Clay
Charles Ellert
Danielle Gotkis
Beth Horowitz Steel
Grace Hou
Lisa Hrabosky
David Kretz
Steve Ledford
Reed Luhtanen
Javier Pérez-Tasso
Sean Rodriguez
David Sapenaro
Bob Steen
Peter Tapling
Nishu Thukral
Hank Uberoi
Glen Ulrich
Cheryl Venable
Gordon Werkema
Bradley Wilkes
Ryan Zagone