Keynote Speakers
Barry Nalebuff
Milton Steinbach professor at Yale School of Management
Barry Nalebuff is the Milton Steinbach professor at Yale School of Management where he teaches strategy, innovation, game theory, and negotiation. Unlike most professors, he practices what he preaches (and preaches what he practices). Barry has written extensively on the application of game theory to business strategy. He is the coauthor of six books. International best-seller Thinking Strategically: The Competitive Edge in Business, Politics, and Everyday Life was the first popular book on game theory. It was the Financial Times' Top Ten "Book of the Year," a Book-of-the-Month Club best-seller, and required reading at the best business schools. Fortune said "Nalebuff sets out sure-fire rules for thinking about strategy." Thinking Strategically and The Art of Strategy: A Game Theorist's Guide to Success in Business and Life are two crossover books on game theory with more than 300,000 copies in print. Of The Art of Strategy, economist Steven Levitt said, "I am hard pressed to think of another book that can match the combination of practical insights and reading enjoyment," and the Economist said, "Here is [a book] that is rigorous, fun, and extremely useful all at the same time." The New York Times and BusinessWeek best-seller Co-opetition revolutionized the game of business. It looks beyond zero-sum games to emphasize the potential for cooperating as well as competing, with an emphasis on creating and capturing value. He also writes a popular Forbes column. Barry also has extensive experience consulting with multinational firms, from American Express, GE, and McKinsey to Google and Rio Tinto. A graduate of MIT, a Rhodes Scholar, and a junior fellow at the Harvard Society of Fellows, he earned his doctorate at Oxford.
Dave Sapenaro
First Vice President and COO, Federal Reserve Bank of St. Louis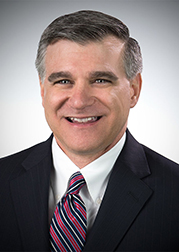 David A. Sapenaro is the First Vice President and Chief Operating Officer of the Federal Reserve Bank of St. Louis as well as the Federal Reserve System's Payments Strategy Director. In his Bank role, he is responsible for directing operations and administrative support functions, leading strategic, tactical and financial planning and coordinating risk management activities. In his System role, he leads the Federal Reserve's payments system improvement efforts related to faster payments, payments security, and stakeholder engagement.
Prior to being named to his current position in January 2006, Mr. Sapenaro led the Bank's operations and initiatives in support of the U.S. Treasury's financial operations. He also spent 10 years at the Federal Reserve Bank of Kansas City, holding a variety of positions in the Financial Services Division of the Bank, including lengthy stints as the officer-in-charge of the Bank's Automated Clearing House and Funds Transfer operations.
Mr. Sapenaro received a bachelor's degree in Business Administration from the University of Missouri, Kansas City in 1985. He currently serves on the board of directors of the Greater St. Louis chapter of Junior Achievement.
Speakers
Lou Anne Alexander +

Lou Anne, group president of payment solutions, leads the Early Warning payments product line. Alexander's team is currently focused on creating faster payment solutions for financial institutions, including the recently introduced Zelle. She played a key role in the company's acquisition of clearXchange, advancing Early Warning's real-time P2P and Network Services offerings. Alexander joined Early Warning in 2009 and has held several leadership positions while expanding the payments and risk product roadmaps. As a recognized banking industry veteran, she served for more than two decades in executive positions at Wells Fargo, Wachovia and First Union National Banks. Alexander holds a bachelor's degree in Computer Science from North Carolina State University and an M.B.A. from Queens University in Charlotte, NC.

Mike Bilski +

North American Banking Company's Chief Executive Officer, Mike is a fourth generation banker with 30 years of solid banking under his belt. As a founder of North American Banking Company, he embraces the idea of banking with no boundaries and utilizes his expertise in information technology to keep the product line ever-evolving. Never one to accept the status quo, Mike continually explores ways to create value for the client and holds the staff at North American to the same high standard. "We've worked to build a team of people who are great at what they do, know how to have fun, and have an interest in giving back to the community." Mike is a former board member and secretary/treasurer of NACHA, the Automated Clearing House Association and a board member of UMACHA, the Upper Midwest Automated Clearing House Association.

Ellen Bromagen +
Ellen Bromagen was appointed first vice president and chief operating officer of the Federal Reserve Bank of Chicago effective September 1, 2015. Prior to her appointment, she was the executive vice president and product manager of the Federal Reserve System's Customer Relations and Support Office (CRSO). The CRSO has a strategic leadership role within the Federal Reserve, managing the nation-wide electronic payments and information delivery network ("FedLine"), leading national sales and marketing strategies associated with $0.5 billion in annual revenue and providing customer set-up and support for over 100,000 users.
Bromagen joined the Federal Reserve Bank of Chicago in 1990 and has held a variety of management positions during her time at the bank. Bromagen was promoted to assistant vice president-accounting in 1998. She joined the CRSO in 2003 was promoted to vice president in 2004 with the responsibility for financial planning and revenue management. In 2006, Bromagen assumed responsibility for FedLine® Program Management and was promoted to senior vice president in 2008. In 2012 she was promoted to executive vice president and product manager of the CRSO.
Bromagen holds a bachelor's of science degree from the University of Wisconsin and a master's degree from DePaul University.

Shonda Clay +
Shonda Clay is executive vice president and product manager for the Federal Reserve Bank of Chicago's Customer Relations and Support Office (CRSO). Prior to her appointment, she served as the CRSO senior vice president, marketing, sales and industry relations, where she was responsible for leading these functions for the Federal Reserve Banks.
Clay joined the Federal Reserve Bank of Dallas in 1991 and transitioned to the Federal Reserve Bank of Chicago in 2001. Her tenure with the Federal Reserve has encompassed multiple areas of management responsibility to include internal support functions, customer support, business development and national sales and marketing. Clay was promoted to assistant vice president and national account manager in 2002. She was promoted to vice president in 2008 with responsibilities for regional sales and marketing and sales operations and analytics. She was promoted to senior vice president in 2014.
Clay holds a master's degree in business administration from Northwestern University and a bachelor's degree in business administration from the University of North Texas.

Julie Conroy +

Julie is research director for Aite Group's Retail Banking practice and covers fraud, data security, anti-money laundering, and compliance issues. Ms. Conroy was a senior vice president of product management with Golden Gateway Financial, where she developed and managed new financial services lines of business. Prior to that, she was vice president of product solutions with Early Warning Services, where she managed a suite of fraud-prevention services that provided clients with more than US$1 billion per year in loss avoidance. Ms. Conroy holds an M.A. in International Policy from the Monterey Institute of International Studies and a B.A. in Business Administration from the Michigan State University Honors College.

John Drechny +

John recently joined the Merchant Advisory Group (MAG) as President, with responsibilities for strategic planning as well as advocating the merchant's perspective in the payment eco-system. Prior to MAG, John enjoyed a 20-year career at Walmart holding various leadership positions in Payment Acceptance, Marketing and Financial Services. John has participated in several key payment stakeholder groups including Chairing both the Merchant Advisory Group and the U.S. Payment Forum Steering Committee. He also participated in the Federal Reserve's Faster Payment effort, holding a steering committee seat as well as a seat on the Governance Framework Formation Team. John attended Northern Illinois University in DeKalb, IL, where he received his Bachelor's Degree and currently lives in Bentonville, Arkansas.

Scott Hendry +

Scott was appointed Bank of Canada's Senior Special Director, Financial Technology (FinTech) in the Funds Management and Banking Department (FBD) in June 2016. In this role, he oversees the Bank's efforts to monitor and research developments and implications of new technologies affecting the financial sector. He previously held the role of Director of Research for FBD and, before that, for the Financial Markets Department (FMD). His personal research has focused on electronic money, price discovery in the Canadian government bond market, and central bank communication. He has a PhD in Economics from the University of Western Ontario.

Charlie Kahn +

Charlie is Professor Emeritus of Finance at Gies College of Business, University of Illinois. A specialist in the economics of information and uncertainty, his research focuses on the applications of the theory of contracts and incentives to banking and financial intermediation. Current projects include an examination of arrangements for payment systems, including clearing houses, wire-transfers, and electronic moneys. He has been a Houblon-Norman Fellow of the Bank of England and is currently a visiting scholar at the Federal Reserve Bank of Chicago.

Jane E. Larimer +

NACHA Chief Operating Officer & General Counsel Jane Larimer is responsible for activities supporting the ACH Network, NACHA membership and industry programs, and all legal matters. Ms. Larimer oversees ACH Network rulemaking, risk and compliance areas, a variety of membership programs in support of payments and outreach, as well broad industry education and communications. Prior to joining NACHA, Ms. Larimer practiced law with the Lending, Banking and Public Finance Group of Bryan Cave LLP, formerly Powell, Goldstein, Frazer & Murphy in Atlanta, Georgia.

Steve Ledford +

At The Clearing House, Steve Ledford works with payments leaders on strategic issues facing banks today and leads initiatives to address them, such as real-time payments. Mr. Ledford has advised leading banks, financial services firms and payment organizations in the US and globally for more than 30 years. His work has focused on payments, advising clients on business strategy, product development, IT and infrastructure planning, operations and the deployment of new payment systems. Prior to joining The Clearing House, Mr. Ledford was a partner with Novantas, a financial services consulting firm. Before that he was a leader in McKinsey's global payments practice, and was President of Global Concepts, a consulting and research firm specializing in payments and cash management. Mr. Ledford is a graduate of Wofford College with a BA in Economics.

Reed Luhtanen +
As Senior Director of Payments Strategy, Reed has responsibility for Walmart's payments-related public policy and public relations initiatives, and for establishing Walmart's payments acceptance strategies. Reed joined Walmart as a law clerk of the Licensing Compliance team in 2005. Since joining Walmart's Corporate Treasury team in 2008, Reed has had responsibility for government benefits acceptance, the company's global gift card program and debit card acceptance. Reed is the Chair of the Food Marketing Institute's Electronic Payments Systems Committee, the Vice Chair of the Special Interest Group for IIAS Standards, and a member of the Federal Reserve's Secure Payments Task Force Steering Committee. Reed has a B.A. in Political Science from the University of Arkansas' Fulbright College of Arts and Sciences and a J.D. from the University of Arkansas School of Law.
Kenneth C. Montgomery, first vice president and chief operating officer at the Federal Reserve Bank of Boston, is responsible for the Bank's financial and U.S. Treasury services, information technology, regional outreach and community development, strategic planning, human resources, corporate support, and administrative activities.

Elizabeth McQuerry +

Leader of Glenbrook Partners' Global Payments Practice, Elizabeth has a decade and half of experience in payments systems supporting client engagements on international remittances, P2P, global payouts, government collections and disbursements, as well as developing payment scheme rules. Elizabeth focuses primarily on developing and enhancing payments services outside the United States. She often supports efforts to grow emerging payment ecosystems and to connect mobile and traditional payment solutions. Starting in mid-2015, Elizabeth became the CEO of the International Payments Framework Association (IPFA). In this role, she leads the IPFA in simplifying the exchange of cross-border payments. Previously Elizabeth worked at Microfinance International Corporation (MFIC), and served as the head of FedGlobal ACH Payments for the Federal Reserve Retail Payments Office.

Ken Montgomery +
In a national capacity, Montgomery is the Secure Payment Strategy Leader responsible for the Federal Reserve System's effort to reduce fraud risk and advance the safety, security, and resiliency of the U.S. payment system. As part of this initiative, he chairs the Federal Reserve's Secure Payments Task Force, comprising more than 200 external payment industry stakeholders.
Montgomery also directs financial management strategies and operations as function director for the Federal Reserve System's Financial Support Office. He serves on the Fed's Financial Services Policy Committee, which sets the strategic direction for the evolving U.S. payment system, and he is a former chair and current member of the Federal Reserve's Conference of First Vice Presidents.
Prior to joining the Boston Fed in 2011, Montgomery was executive vice president and Federal Reserve System chief technology officer based out of the Federal Reserve Bank of Richmond. In this role, he presided over a broad swath of information technology functions that guide and support technology groups at Regional Banks across the Federal Reserve System. His responsibilities included business consulting, technology and strategic planning and standards development, information security policy and risk management, high-intensity solutions engineering, and overall national program management. Montgomery's Fed career began at the New York Fed in 1983.
Montgomery, originally from Kearny, New Jersey, received a bachelor's degree from Seton Hall University and M.B.A. from Fairleigh Dickinson University.
He serves as chair of the Boston Private Industry Council—Boston's Workforce Development Board; is an executive committee member of the Boston Municipal Research Bureau, and the Greater Boston Chamber of Commerce. He serves as vice chairman of the Advanced Cyber Security Center, a nonprofit consortium made up of industry, university, and government organizations.

Gene Neyer +

Gene advises financial and technology companies on various aspects of Payment Modernization. He is a Chief Strategy Officer of Icon Solutions, current member of the Governance Framework Formation Team (successor to the Federal Reserve's Faster Payments Task Force) and the president of Supplier Committee at Bankers Association for Finance & Trade. Previously, Gene was a Head of Industry and Regulation for Finastra, and an SVP, Head of Product Management for D+H and Fundtech. He has written and lectured on various aspects of global payments, real-time payments and blockchain and is a regular speaker and commentator at business seminars and conferences.

Jan Pilbauer +
Jan Pilbauer is Payments Canada's Executive Director, Modernization and CIO. In this role, he leads the modernization of the Canadian core clearing and settlement payment infrastructure, including implementation of ISO 20022. He also sets the strategic direction for the information technology at Payments Canada.
Jan possesses strong business and technology executive-level experience in payment systems and the cash industry. He has served in increasingly senior leadership positions over the years, leading important projects for mission-critical and high availability systems in the central banking environment. Prior to joining Payments Canada in 2015, Jan was Director of the Central Bank Counterfeit Deterrence Group, an international collaboration of central banks under the auspice of the Bank for International Settlements.
Jan has 15 years of IT experience. He is actively involved in Payments Canada's investigation of, and experiments with, blockchain technology and maintains strong ties with the fintech community in Canada.

Tony Richards +

Tony Richards is Head of Payments Policy at the Reserve Bank of Australia where he is responsible for the Bank's analysis and advice to the Payments System Board on promoting competition and efficiency and controlling risk in the Australian payments system and for the Bank's oversight of financial market infrastructures. His previous roles at the Reserve Bank have included serving as Head of Economic Analysis, Head of Economic Research and Deputy Head of International Department. He has also worked at the International Monetary Fund in Washington on international capital markets issues, and on numerous countries including Korea, Russia and the Baltic countries. Dr. Richards' academic and policy research has been published in leading international economic and financial journals. He holds a Bachelor of Economics (Honours) from the University of Sydney, a Masters in Public Administration from Harvard University and a Ph.D. in Business Administration from the George Washington University.

Sean Rodriguez +
Sean Rodriguez is faster payments strategy leader for the Federal Reserve System. As faster payments strategy leader, Rodriguez is leading activities to facilitate implementation of safe, ubiquitous, faster payments capabilities in the United States. He chaired the Federal Reserve's Faster Payments Task Force and is now leading several work streams established by the task force that are focused on improving the speed, clearing, settlement and notification of payments in this country.
Rodriguez brings more than 34 years of experience with Federal Reserve Financial Services in operations, product development, sales and marketing. He helped establish the Federal Reserve's Customer Relations and Support Office in 2001 including its national account program and served on the Federal Reserve's leadership team for implementing the Check 21 initiative. More recently, Rodriguez was instrumental in the design and launch of the Federal Reserve's Payments Industry Relations Program. Rodriguez holds a B.A. from the University of Colorado, a Graduate School of Banking Certificate from the University of Wisconsin and is an Association for Financial Professionals – Certified Cash Manager.

Matthias Schmudde +
Matthias Schmudde is Head of the Payment and Securities Clearing and Settlement Division at the Deutsche Bundesbank in Frankfurt. He is a member of the MIPC (Eurosystem Market Infrastructure and Payments Committee), the AMI-SeCo (Eurosystem Advisory Group on Market Infrastructures for securities and collateral) and responsible for cashless payment and securities clearing strategy, policy issues and oversight.
Matthias Schmudde is in particular involved in Eurosystem related initiatives such as TARGET Instant Payment Settlement (TIPS), the consolidation of TARGET2 and T2S and the Eurosystem Collateral Management System (ECMS). Previously he focused on developing and improving the Bundesbank`s own payment and accounting systems.
Before joining the Bundesbank in 1997, Matthias Schmudde obtained a master degree in business administration and completed an apprenticeship in banking.

Mitchell Siegel +

Mitchell Siegel is the National Financial Services Strategy and Transformation Leader at KPMG. Mitch offers C-suite and board level guidance across the financial services industry on business model and operating model strategies intended to drive revenue growth, cost efficiency and to mitigate enterprise risk. He is currently assisting financial services clients with digital disruption strategies occurring across their payments, lending and wealth value chains, including the build of refined digital operating models for acquisitions through servicing intended to drive enhanced customer experience interactions.

Peter Tapling +

Peter has spent over 20 years helping financial services companies figure out the authentication/identity/ cyber risk problem. This year Peter joined Spring Labs from Early Warning Services, the providers of Zelle, where he ran their authentication business and then served as their Chief Revenue Officer. Prior to that, he was the founding CEO of Authentify, Inc. Peter is also an author and sought-after industry speaker.

Connie Theien +
Connie Theien was appointed as senior vice president of the industry relations program in January 2017. As senior vice president and director of payments industry relations for the Federal Reserve, Theien leads efforts to engage payments stakeholders in advancing strategies for improving the U.S. payment system.
Theien leads stakeholder engagement by supporting various industry and Federal Reserve work groups and initiatives. She also leads the engagement strategy for the Fed Payments Improvement Community, a group that includes thousands of stakeholders from across the payments ecosystem, to improve the end-to-end speed, efficiency and security of payments in the country.
As part of the Federal Reserve's payments improvement leadership team, she established and managed engagement for the Faster and Secure Payments Task Forces, a coalition of 500+ diverse stakeholders, both of which concluded their work efforts after publishing resources that lay important groundwork for future collaboration to address payment system improvements.
Prior to establishing the Industry Relations Program in 2013, Theien held several roles within Customer Relations and Support Office National Marketing including marketing communications director for Federal Reserve Financial Services. Theien holds a B.A. in speech communication from the University of Minnesota and an M.B.A. from the University of Minnesota's Carlson School of Management.

Stephan Thomasee +

Stephan is Senior Vice President of IT and Security of SHAZAM. He utilizes his technical background, proven business acumen and operational leadership capabilities to create value for internal and external customers. He utilizes IT to drive business growth by advancing security, enhancing performance, ensuring availability and refining functional capabilities across the enterprise.

Bradley Wilkes +

Bradley is the Founder and President/CEO of WingCash. Prior to founding WingCash, he founded ProPay, Inc., a subsidiary of publicly traded Total Systems Services, Inc. (NYSE:TSS). ProPay is a registered ISO/MSP and third party payment processor for payment card networks (Visa, MasterCard, Amex, Discover) and member Financial Institutions. He was also a co-founder of Authorize.net now owned by Visa. Bradley was a member of the 18-person Steering Committee of the Federal Reserve's Faster Payments Task Force. He was one of six people elected by the non-bank providers segment of the Faster Payments Task Force to work on the implementation of the Faster Payments Governance Framework for the United States. He's been awarded eight payment related patents by the U.S. Patent and Trademark Office. He received an MBA/TM degree from the University of Phoenix and a Bachelor of Science from Brigham Young University in Provo, Utah.

Laura Yens +
Laura is Counsel with Alston & Bird LLP. As a senior member of the Payments team, Laura has extensive domestic and international experience in the development and distribution of, and strategies regarding, payments technologies, products and services. Laura advises clients across the Payments industry, including banks, FinTech companies, digital giants, processors, card and Faster Payments networks, merchants and start-ups.
Before joining Alston in 2017, Laura was Senior Managing Counsel at Mastercard, where she managed a variety of cross-divisional projects supporting 2 of the 3 corporate strategic initiatives for 2017, including those essential to the Faster Payments international distribution strategy. Prior to Mastercard, Laura was Associate General Counsel at The Advisory Board Company, a publicly-traded healthcare technology and consulting firm, and held positions within the legal departments at AOL Inc. and Digex, Incorporated, a Verizon subsidiary.
Laura received her BA, cum laude, from the University of Pennsylvania, in three years, and earned her JD/MBA from Tulane University, where she received an Aldrich scholarship for academic excellence.